CERTIFICATION IN DIGITAL MARKETING COURSE
This 3 months certification in digital marketing is intends to train online business owners and digital marketing jobs enthusiasts on how to take advantage of the reach, the reduced cost and personalisation are the advantage of the internet in the marketing business, companies, and industries as against the traditional way of marketing.  The course would explore all new trends in internet marketing as it relates to digital marketing. This course is highly recommended for all online business owners and budding startups.
OBJECTIVE OF BEST CERTIFICATION IN DIGITAL MARKETING

This Course in digital marketing aims to train its students on how to manage a website for research, online marketing for shopping and entertainment using content, bounce rate analysis, popularity of the site, architecture and response time to improve the visibility of the website and to drive traffic and generate sales for the website /Company, as well as carry out reputation management, conversion rate optimisation and web analytics.
3 MONTHS CERTIFICATION IN DIGITAL MARKETING COURSE OUTLINE
Normal Track: 3 Month ( 1.5 Hours Classes Fri & Sat )
ASHS Three Months Certification in Digital Marketing Certificate will be provided to students.
Complete course Fee: Rs:60,000
Admission Fee: Rs:5000
NOTE: At the end of this Digital marketing Training course. Projects would be executed by students individually on personal websites. This course has been updated to reflect new trends in Digital marketing for 2022-23.
TOOLS COVERED
Google Search Console tool
Google Analytics Tool
Google Keyword Planner
Moz PA/DA, Alexa, SEM Rush, Majestic, Ranking Tools
Google My Business
Google Ads
Linkdin Ads & Twitter Ads
Auditors and Report Generation Tools
Mail Chimp
Many paid tools
After Complete Internet & Digital Marketing Course in Karachi . Students would be able to work as
Digital Marketer
SEO Managers
Social Media Specialist
Site Analyst and Webmasters
Creative content developer
Affiliate Marketer/ Manager
Internet marketing trainer
Online reputation manager
Brand manager
Online Business Analyst
Site Strategist
OUR REPUTATION SAYS IT ALL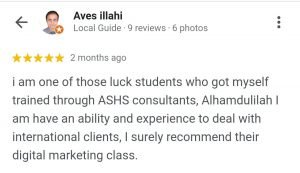 OUR SHARAH E FAISAL CAMPUS